Public Storage Self-Storage Units at 180 Calle Del Oaks, Del Rey Oaks, CA
Address
180 Calle Del Oaks Del Rey Oaks, CA 93940
Rent and pay for your space online – today.

Move in during gate access hours.
Onsite Manager Hours
Mon-Fri 9:30 AM - 6:00 PM
Sat-Sun 9:30 AM - 5:00 PM
Move-In & Access Hours
Mon-Fri 6:00 AM - 6:00 PM
Sat-Sun 6:00 AM - 5:00 PM
Storage Facility Features
Indoor & Outdoor Storage Units

Property Manager Lives On-site

Small, Medium & Large Storage Units
Onsite Manager Hours
Mon-Fri 9:30 AM - 6:00 PM
Sat-Sun 9:30 AM - 5:00 PM
Move-In & Access Hours
Mon-Fri 6:00 AM - 6:00 PM
Sat-Sun 6:00 AM - 5:00 PM
Storage Facility Features
Indoor & Outdoor Storage Units

Property Manager Lives On-site

Small, Medium & Large Storage Units
Close Location Details
View Location Details
Outside unit

Drive-up access
Nearby Self-Storage Locations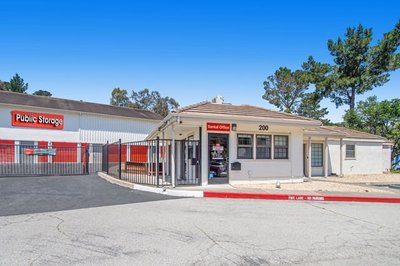 Self Storage Near
200 Calle Del Oaks
Del Rey Oaks CA 93940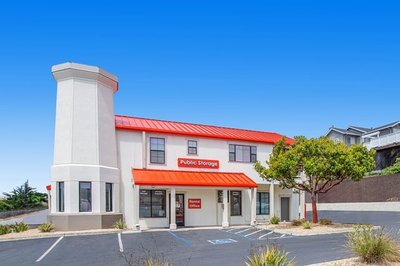 Self Storage Near
709 California Ave
Sand City CA 93955
Self-Storage Near Del Rey Oaks
Resources from the Help Center
See what fits in different storage unit sizes
Del Rey Oaks Storage Units Near Monterey Regional Airport and Highway 68
Storage units in Del Rey Oaks are just off Canyon Del Rey Boulevard near Ryan Ranch Road and Highway 68/Monterey-Salinas Highway. Indoor and outdoor storage units are on-site is an array of sizes. Just look for our Public Storage Orange doors for convenient drive-up access to cheap storage.
Just 6 miles from the Monterey Bay Aquarium, Del Rey Oaks is close to everything the Monterey Peninsula has to offer.
Del Rey Oaks Public Storage has solutions that will fit your storage needs.
At Public Storage, You'll Always Find...
Keypad Access

Friendly Staff

Month-to-Month Rent

Moving Supplies Available

Free Parking

Well-Lit Facilities
Reviews
( 248)
The property manager Dawn, great customer service and always happy to help me with my concerns with storage. The property is always clean and safe and will highly recommend to all my friends and family. Thanks Dawn you rock!!!!
Dawn is an awesome property manager. The place is quiet and clean. Feels very secure.
Dawn , the property manager is extremely friendly and helpful. If you have questions, she's the one to go to. Thanks for making our experience at Public Storage a great one.
Dawn was fantastic! She was very helpful throughout the entire process!
Dawn is awesome and great service and will send everyone here
Dawn was extremely helpful and friendly.
I had a great experience getting set up with Dawn. Professional and helpful. Many thanks!!!
You rock Dawn thanks for your awesome customer service and will recomend this location to all my family
Thank you very much Dawn for your help for of our needs. Highly recommend to come to this location very clean and feel safe and secure.
Dawn was very helpful with all my storage needs and I would highly recommend coming here. Very clean and secure. She very friendly and kindly. Than you very much for helping me out
Dawn was super helpful with all the questions that I needed answered! She went above and beyond to help me with what I needed
Manager was very helpful and proficient in making sure my online reservation worked for me. I did reserve online a small unit, and she took the extra steps to ensure I was satisfied and could upgrade the size on site with ease. She knew the site well enough to make recommendations based on customer experience which 100% made me feel confident in what I was getting. I felt confident in the safety of my items being stored based on the security measures and presence of staff.
Dawn is very friendly and she goes above and beyond to help with all my needs with storage. I will definitely be recommending this location to everyone. Safe and secure and very clean. Thanks Dawn you are so amazing and you rock!! :-)
Easy to use service. Dawn signed us up so easily and quickly. The spaces are decently sized so they have great options.
Dawn was very helpful and thorough throughout the whole process!
Dawn went over and above to help me get registered, signed in for the unit. She took me to my unit showed me how to work the door and the locks exceptional service.
Had a great experience renting my storage unit her Dawn was great and very helpful. Highly recommend
Dawn was very helpful !! Love her
Dawn is AWESOME! Great customer service! Moving day is made easier with DAWN!! Thanks Dawn..
Highly recommend Good people, great service,good rates
She was very helpful and kind.
Dawn was excellent helping me out with the entire moving in process. She did a great job.
The manager Dawn is super friendly and helpful. I had a lot of questions, and she was super informative and had all of the answers I needed. She showed me a few unit options based on my needs and I was able to get access to my selected unit on the spot. Bonus points for having an app that allows you to open the access gate at the property without having to get out of your car to enter the code!
Dawn was excellent and helpful as well as very knowledgeable.
Great service from Dawn this morning! She is super helpful.
Dawn thank you for everything much appreciated
Dawn was incredible! She took me in expeditiously and attended to all my needs.She made my enrollment extremely easy. Five Stars for sure!!!
Don provided us with excellent customer service, she was very friendly informative and instructed us on the safety measures and keeping our staff safe in the storage. Done made our move in process smooth and easy and it's greatly appreciate it. We always love getting great customer service.
Perfect Dawn was amazing and very helpful and I formative I wish I had employees just like her she is very dedicated to her job
Dawn is the best!!! Thank you for such a friendly walkthrough and easy process moving in.
Great service from Dawn very clean and excellent service
Dawn was great, and very helpful.
Dawn was professional and friendly. Explained all of the property rules! Thank you!!
Dawn was extremely friendly.
Dawn was amazingly helpful and patient!!
For my storage needs, Dawn was great—informative, incredibly sweet, and simple to work with. She gave a thorough explanation of everything, and the property was well-kept and clean. I'm grateful.
Dawn was extremely helpful explaining all of our different storage options. She gave us a tour and patiently answered all of our questions. Great service!
Dawn was working there when we arrived and was very cooperative 5/5 customer service !
Dawn, was the best, you should give her a big fat raise. It's had to find good people who represent your company so well. Thank you, Dawn!!
Dawn is FANTASTIC!! Best service ever! I highly recommend this facility.
Very friendly and clean Dawn gave great customer service
Dawn was very helpful on more than one occasion. Easy access with the app. Very very clean property.
Dawn gave me excellent service and solutions for a long term issue. Above and beyond service.
Couldn't be happier with the service and personal touch. Many thanks to Dawn for all the excellent service !!!
Dawn was Very helpful and fast! Thank you
Always have a nice experience. Clean an efficient facilities. Dawn is also super helpful!
Dawn has such an amazing costumer service! She definitely trys her best to make things happen. My time at this storage place has come to an end, but if I need to come back, I would. Thank you all for your amazing service.
Dawn has great customer service and very friendly and helped me with all my storage needs and highly recommend this location to all friends and family's. Thanks you are awesome!!
Very professional service provided by customer service agent Dawn. She is knowledgeable, efficient and listens well. We are very happy with the assistance she provides and are very satisfied customers.
Great customer service ! No break ins ! Highly recommended. Dawn was great help thank you very much!!
Dawn is sooo amazing and knowledgeable! She was so friendly and thorough. I am so glad we decided to rent here. Dawn you rock! You made our move in fun and smooth.
Property manager Dawn has great customer service very friendly and helped me with all my needs for storage. Would highly recommend this location safe and very clean.
Dawn is awesome and great customer service . Love this place. Thanks dawn
Great experience here, Dawn really is helpful, great communication and makes you feel comfortable and welcome. Amazing customer service. Will be recommending to others. Thank You
Don in the office was very helpful and very courteous on the phone and help me take care of the problems very promptly it was very appreciated
Easy to rent, up front with all information. Easy online rental, friendly staff.
Clean facility! They just finished painting within the last 2 months.
Excelent service, she is amazing!!
Very clean place & well maintained. Management is really friendly & helpful.
Excellent customer service and support
Chris was very helpful, and answered all my questions. The place looked immaculate, and seems trustworthy with their security.
Chris was super helpful and the process was quick and easy to get all set up and moved in.
Dawn was so friendly and helpful in assisting me with my sister's storage who recently passed away. She made the process very easy and helped me every step of the way. This storage facility is sanitized daily, is very clean and has easy access. I would definitely recommend this to my friends and family. Thanks again Dawn!!!
Dawn provided excellent customer service and understood our concerns when we originally got our unit here. Thanks Dawn!
Dawn provides excellent service and keeps the place spotless! I've never seen the attention to detail in her cleaning protocols in any of the storage units I've used in the past. Well done!
The property is clean and safe. That I would highly recommended it and service was good. Dawn ia a great property manager.
Very helpful and made the whole process super easy and simple.
Just want to say Dawn is AMAZING. Her will and wanting to help us during these hard times was really heartfelt. I would recommend anyone to come here for a unit. Thanks Dawn for brightening our day with your sweet and funny personality!
Dawn is wonderful. All our needs were met. Thank you Dawn for all your help.
Dawn is amazing! She explained everything perfect! And was able to help me figure out if the space I was interested in was enough! Highly recommend it.
Dawn the manager is awesome. Great customer service. Very friendly and helpful.
First renting a storage unit and dawn was extremely helpful made the experience very friendly
Well it was great , everything went great , the space was just right for the price .
I had a great experience! Dawn was so helpful and I was able to get the space I needed And all my questions answered!
Dawn was a big help in helping me close out my unit after many years, and starting a new smaller one. She's knowledgable and very helpful. Thanks Dawn!
AWESOME STAFF, friendly service, clean facility! Highly recommend!
Dawn was most gracious and made the registering etc. quite efficient. I would recommend this facility to anyone.
Prices are competitive and Jeannie was great to work with, she was very friendly and got me setup with a storage unit in minutes.
Love this place, great location and Jeannie is so kind!
I had a great check-in experience and I got a great deal!!! Dawn was amazing and extremely kind!
Good space and good deal. Close to Seaside. Good hours.
Dawn was incredibly helpful showing me a selection of units and letting me pick the perfect site for my move! Highly recommended.
Dawn was very helpful with getting my storage unit set up!
Everything is easy! The staff are helpful!
I was able to make my reservation online and visit the unit within the hour. Dawn was very helpful and got me in and out in no time. I'm very pleased with the service.
The service was excellent. Public storage has always been a safe place to store my things. Thanks Stephanie.
Great customer service Jeannie. Thank you.
Friendly staff. Very helpful during move process. Would use again.
Although the office manager is superb the company is horrid. I rented a 5x10 unit advertised at $125/mon on the website. No one tells you until the last minute that there's an additional $11/mon for insurance. And they don't tell you that, by the way, the cost goes up 20% - 30% after six months. And, by the way, that will happen either every six months or every year. And, by the way, the unit only measures at 4.5 x10. And I called their main customer service number today because I couldn't get onto their website to pay my bill. They told me the site has been down for about 24 hrs but transferred me to another line where I could pay over the phone . After an 11 minute hold I was told that there would be a $20 convenience fee to pay online. But if you are aware of and accept these issues then, yes, this particular location does have a really great office manager (five stars for her). For storage longer than a few months you'd do better to find another option. I will be looking for an alternative to my now $166/mon cost.
Dawn is very friendly and goes over all of the rules so its easy for a first-time storage renter like me :)
My experience was wonderful Dawn was very helpful and kind!
Dawn was helpful and extremely nice!
Great place for all my extra stuff! Im sort of a pack rat but when stuff starts overflowing from my garage I keep all my stuff here. Very clean location and well managed! Any concerns Ive had have been handled quickly and professionally. Easy access also. Wouldnt store my stuff anywhere else!
The propwrgy is crean and helpful
Great customer service clean property
I have had 2 storage units at this location for many years. Nothing but good to say about the facility, staff and service. The manager Dawn is awesome and makes the place run smoothly. The rest of the employees are great as well.
Been here almost three months. Great ladies up front and clean safe storage.
The property manager, Dawn, was very understanding of my storage needs and worked with me to change storage spaces within the same facility. I appreciate her attention to detail and her pride in her work. Now that Dawn is at this facility, I will recommend it as a storage solution.
Thank you Jeannie for excellent customer service
Dawn was very helpful and organized. Appreciated all her suggestions.
Great experience! Dawn was super helpful and her positive attitude helped the process and improved my day. Thanks Dawn!
They were great. Treated as well the entire time we were there which was close to a year since we had just lost our mom and had a lot of adjustments to make. Staff were always friendly and helpful
Dawn is super nice and helpful!
Dawn, is an excellent manager, wonderful service.
Wonderful experience with dawn!
Thank you Dawn, I got just the right space I needed. Great customer service, and very nice people to work with too.
We did not have a good experience with this Public Storage... Our rent was increased numerous times while we rented a unit here, while access hours were reduced — which was one of the biggest problems, considering closing so soon after normal business hours makes it hard to access your unit by the time you get off work and get across town. The facility itself is in good condition, is well lit, and is easy enough to access as it's only one story, however there are no moving carts provided like other places we've rented from offered. We also experienced a huge problem with water intrusion, to the point where our mattress was completely ruined by mold. We had to file a claim and frustratingly, the staff didn't seem to care one way or another that our belongings we paid to store here safely were ruined. In fact, we were not pleased with the customer service here all around and frequently felt as though we were not welcome to take our time getting our stuff into or out of the unit without encountering a staff member who was questioning what we were doing there or insinuating we needed to finish up as quickly as possible and leave. When we're paying almost $150 per month to use the facility, I would have liked to feel comfortable being on site but that wasn't the case with this Public Storage. I would recommend trying another storage option in town before renting from this one.
Thank you ! Great service
Hours are not what are posted. The office is frequently closed during advertised business hours. This means that things such as moving carts and packing material are not available. Move in had to be rescheduled twice due to office not being open. The site is not accessible by commercial moving trucks. Trucks must be smaller than 25' to get onto the property. Decent for short term storage, but if moving things with professional movers, I'd recommend a different location.
Thank you, Dawn for making this process so easy and great customer service! We appreciate you.
Very nice manager, super helpful. Clean property. Highly recommended
Dawn had great customer service and high recommend to storage
Great customer service! Very thankful for all the help
Dawn is very helpful and friendly
Had a wonderful experience with the manager Dawn. She provided excellent customer service and answered my questions with knowledgeable answers. I recommend this place if you need storage.
Convenient, polite, economical. The logistics of the facility are a bit problematic. The easy access unit is quite expensive. The much more affordable version is quite a bit of hassle to access.
Samantha was very helpful and gave me all the information I needed. Property is clean and quiet.
Samantha is excellent and the place is great!
Samantha made process quick, easy , and understandable. Facilities are clean and ready to go.
Everything was very easy. Fast and friendly service
Dawn was a huge help with getting my first storage unit! She was super knowledgeable about what size we would need and various extras we'd need for our furniture.
Dawn was extremely efficient and professional.
Very satisfied,Dawn was very helpful and friendly. She made sure that we were aware of everything about the property and policies.
Dawn is amazing!! Super friendly. We will be back!
Amazing. Thank you! Sonja was awesome and very helpful. The online reservations was easy and fast. Property #26827
Fabulous service....professional and efficient!
The property was extremely clean and well organized! Samantha and dawn were very helpful and sweet
Very personable service and I've had phenomenal help with my new transition into the area.
Very nice and thorough! Great hours.
worst place to store your personal property. the public storage has had several break in s which don't get reported to the law because its most likely someone who is working there. the manager always seems intoxicated and i love your little pregnant ass. i rude.
Tracy is always so thoughtful, helpful, and friendly. She is also taught me how to do my payments online, which was informative. It's always a pleasure seeing her here when do my payments because she's always smiling and approachable.
Dawn was very helpful and very professional.
4 Star Due to Limited Hours, great service, clean unit.
Dawn was a pleasure to work with. Made things simple and easy for me. Locations is clean and we'll managed. I would recommend reserving online to get a good rate and move-in special.
Easy and quick. Dawn was professional and courteous.
Great experience, good service, highly recommend, Dawn was so friendly.
Service was friendly and storage was perfect. They did an automatic payment and there were no complaints with their service. The only thing that was a bummer was when the rates went up halfway through my time there. It's for maintenance, I get it. The thing is there are people like me who budget the months. Other than that, I would recommend it.
Super friendly, made my move in quick & painless!
Very friendly staff. Great customer skills and service. She was willing to work with us and help us register for our storage space. 10/10
Dawn. What can I say? Awesome. Professional. Knew her stuff. Made checking in super easy. She even found ways I could save some extra money! Such a breath of fresh air. Highly recommend!
It was fast easy simple good and great customer service loved the whole experience totally will come back again
Tracy was very helpful, courteous and pleasant.
Dawn was personable, informative and efficient. Location is convenient.
It's really good here and I've been for years!
I used the place as a temporary storage (1month + 1 day). The staff was excellent, the place was clean and no one was upset about the short stay. Worked out perfect for what I needed. Quick in and out access.
Dawn was friendly and helpful. Easy experience signing up
Dawn was very helpful with getting our storage unit! Very informative.😀
Not the best place to rent, I was told... I can't remain in the property for no more then an hour... and I need it to clean my unit and the lady is constantly checking to see what I am doing is very annoying!!! I been renting with public storage for over 6 years at a different locations never deal with a property with poor customer service! I would say good look somewhere else to rent.
Being new to storage units I had lots of questions. Safety, accessibility , no water leakage, light, etc. Dawn was very patient with me and answered all my questions...she knows what she's doing. So far, I am quite pleased with the facility.
Dawn made the process very easy!
Dawn was very polite and helped me wth everything I needed. Excellent facility. Keep up the good work!!!
Nice facility. Great service. Highly recommend!
I experienced interested polite service. I felt that all my questions got answered. And it was wonderful having a smile to greet me.
Great job. I was in and out.
Awesome Property Manager. Friendly and very helpful. Knows her business.
Dawn was very helpful and very thorough explaining how leasing a storage unit worked. Very professional and answered all questions.
My roommate referred this storage place to me, when I was very stressed out trying to find a place to live. The property manager Dawn was very helpful, she could tell this was my first time renting out a storage unit and explained the details to me very clearly.
Dawn was great, took time to explain the storage contract. She was patient also in making sure I understood the payment due dates and rates for my unit. Thank you Dawn!!
I am currently a customer i went there on sun -Dawn was very rude and disserespect-Assumed i was leaving a box of trash intead of asking if i was- A very crappy attitude and poor customer service -falsely put info on my acct that wasnt tru -Needs better customer srrvice Skills-Security cameras needed for personal items after business hours-Jeannie very helpful excellent customer service skills aand always willing to ressolve an issue in a timely manner -I would definetly reccommend that everyone to ask for her assistance -Good job -
I went in to get some moving boxes and some information on storage units and Dawn helped me out. She was very helpful and friendly. She did a wonderful job in helping me out.
Stop by to purchase some boxes and packing tape. the lady who was working in the office was very helpful.Dawn is the name of saw on the name tag.
Safe and secure. Staff was helpful too
Thank God for Kati she has made us feel just at home and I feel completely safe storing here
Kati is the best. She is always friendly and has a great smile when you walk in. She makes me feel very welcomed.
Katie by far has been the best manager in the last 6 months she gets very personal with the customers and makes it feel like this process is very easy
It is great to see Katie as the property manager she's doing such a great job running the place since it was empty for six months I think public storage made the best decision of their career they could putting her there
Super friendly very helpful
Patty and Jeanne were amazingly helpful. Very nice and quick service. Highly recommend Public Storage!!!
Jeanne is awesome! She was so helpful today and made my move out so easy! I spent 4 years at this storage and never had any issues. Very clean and easy to access. Would definitely use this place again if I need extra storage space!
Lacey is so sweet!! We are sorry to hear she is leaving but excited for her! She assured us we are in good hands with the next property manager. This new person has big shoes to fill.
In the midst of a very long moving process and dealing with numerous people by far Patty is one person I look forward to seeing each week as I move my belongings to and fro from my unit. The facility is clean and secure. Thank you for the Warm, friendly service!
courteous And professional
Phenomenal customer service! This place is clean, appears safe, and is run by people that care. A refreshing change of pace to interact with people that want to be at work and who want to make the customer's experience a great one.
Courteous and professional staff
I met Lacey a few years ago when I switched my storage to Public Storage. From the moment I met her I liked her. She has always been kind and helpful. Now days it's hard to get good customer service with a smile. The complex is always so neat and clean. I have referred friends and family to Public Storage and I will continue to do so.
Awesome service! Great facility! Lacey is the Best Manager ever!
Lacey is amazing!! Really cares about her clients and very personable.
Lace is.awesome and sweet
They treat right every time. Really appreciated Patty. She made moving in easy an affordable and when we left she made sure to cancel all auto payments and only charged for the five extra days we stayed. AWSOME SERVICE
Super sweet and a breath of fresh air!
Lacey is a pro and super nice! Rent here
Lacey is helpful and professional. She always has a smile and makes you feel very welcome
Lacey is the best! Thanks public storage!
Lacey is great and professional
Lacey is quite helpful and knowledgeable
Lacey is amazing!. Signing up was quick and easy she explained EVERYTHING And answered all my questions, she even helped me take a few things into my unit since I was solo that day, awesome customer service! Thanks Lacey, you rock!!
Lacey made my move in awesome and painless. She answered all my questions and smiled through the whole process. Thank you Lacey!!
Lacey is great!! Very positive and sweet!!! Rent here!!
Lacey was awsome!!! Was more than helpful I needed a storage asap and she made it happen and maintained a professional adittude! ! Thanks
Clean, convenient and the staff knows what they are doing.
great experience, great people, clean.facilty. see the.tall lady, really sweet anf.helpful
Lacey is the best! She is always cheerful and helpful. When there is a problem she sees to it that it is handle in a timely matter (there was a pipe above out unit that was dripping water). Lacey moved quick and we had no worries.
Just like the other reviews said Lacey is awesome and will give you a great storage experience! Rent here!!!
Lacey has always been extremely helpful and most delightful to deal with. I recently rented a storage garage from her and she made the process painless. She is a bright and charming person; she will do well in whatever position she holds.
My favorite storage spot. Great staff!
Patty and the crew @ this public storage location have been very helpful! The location is secure, clean and the ladies always greet you with a smile! They even take the time to remind you if you are going to be late on monthly dues. Most every other business that I have dealt with seems to be most eager to throw you collection companies without ever giving you the courtesy of a bill.... Thank you Patty and crew! :)
Lacey is awesome and I recommend this facility to anyone looking for storage!! Great service and clean facility!!
Being a first time renter for storage, I had no idea what to do! Lacey walked me through the whole process and answered every question i had! It was so nice to have someone who was willing to work with me instead of just trying to shut me up. I would recommend this place to anyone!
I have been a customer at this location for more than a year. Perfect place. Clean and secure.
Lacey is so helpful and professional!! Clean facility and great service, doesn't get much better then that!
My wife and I just rented here and we could not feel safer when storing our household items while house searching. Lacey told us about the best schools in the area, as well as restaurant and local hit spots. Lacey didn't just care about our business but about us. When we commented her on her great service, all she said was "it's her personal motto to leave people better than she found them". We thought that was so awesome and we have recommended public storage to all our friends and family.
This is the best Public Storage facility I know of, I feel like I end up calling Lacey every day and she is still cheery and always helpful. I reccomend this Public Storage to everyone!!!
I recently moved from a storage facility in Salinas to your facility in Del Rey Oaks, and I am so glad I did! Your property manager was incredibly helpful and very pleasant to deal with. Even still at the end of the day, when most people are just ready to pack up and head home. Lacey was a great help and I really appreciated her patience with my children and I. Her positive attitude and bubbly personality made the move worth it! You've got a great employee! Thanks Public Storage!